Pharmacy Radio #001 w/ guests Sonic Species & Orpheus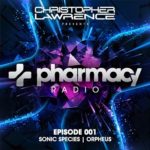 Published on: August 2016
Goodbye Rush Hour. Hello Pharmacy Radio!
Christopher Lawrence is excited to announce the launch of Pharmacy Radio which is a re-branding of his hugely popular radio show Rush Hour. While the show has a brand new look, format remains largely the same, however he will be delivering two guest mixes each month, including one from a Pharmacy Music artist.
The very first episode features guest mixes from Sonic Species and Orpheus with Track of the Month going to Ital's Mind Explosion.
Christopher Lawrence
Freedom Fighters & Pixel / Sem Is Different / HOMmega Productions
Vini Vici & Liquid Soul / Universe Inside Me / Iboga
Effective feat. Ojini / Godavari / New Kicks
John 00 Fleming / Altered Senses / JOOF
Shanti Matkin & GMS & Deedrah & MODERN8 / Nesting Too Deep / Iboga
Christopher Lawrence vs Orpheus / Tribal Warrior / Pharmacy
Track of the Month: Ital / Mind Explotion / Antu
The Big Bang / Amanita / Antu
Hypnoise / Namaskarartha / Profound
Sinerider, Ital & Neuroplasm / What is Real (The Big Bang Remix) / Antu
Guest Mix: Sonic Species
No tracklist.
Guest Mix: Orpheus (Pharmacy Music)
Orpheus / Valium (Krunch Remix)
Royal Flush / Definition of Insanity (Orpheus Remix)
Orpheus vs Krunch / No Rules
Orpheus Lonely Place / Pharmacy
Astrix / Cooloio (Orpheus Remix) / Pharmacy