Rush Hour 001 w/ guest Mark Oliver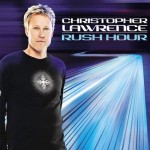 Published on: April 2008
US superstar DJ Christopher Lawrence launched his new monthly radio show 'Rush Hour' on Digitally Imported, the World's #1 online dance radio station in April 2008.
Over the past ten years, Christopher Lawrence has risen through the international dance music ranks to become one of the World's most acclaimed and popular DJs and producers. With a list of accolades including Dancestar USA's and IDMA's 'Best DJ' Awards and consecutive top ten placements in the World's DJ polls, Christopher is a regular headliner at the world's biggest festivals and superclubs.
Turning his talents to radio, Christopher Lawrence joins Ferry Corsten,Armin van Buuren, Above and Beyond and Marcus Schultz who also broadcast shows on Digitally Imported's popular Trance station.
'Rush Hour' will feature the best in underground trance, progressive, psytrance and techno from around the globe. Each episode will also feature a guest mix, drawn from a pool of undiscovered talents, as well as some of the World's top DJ stars.
HOUR ONE: CHRISTOPHER LAWRENCE
Sami Saari / Sweet (Original Mix) / Captured Music
Noel Sanger / Natural Perfection (John C Mix) / Dissident Music
Inflexion / Distorted Jail / Greenspot Music
R-Tem / Cloud Of Sound (Natlife Nu Chool Remix) / Real Deep
Ojos / Joneville / Sounds of Earth
Sindre vs Aimar / Alive Again (Dsnilo Ercole Mix) / Fektive Records
Ojos / Feche Seus Olhos/ Sounds of Earth
Mekk / Resistance (Activa vs Mekk Remix) / Discover Dark
Christopher Lawrence / Rush Hour / Pharmacy Music
HOUR TWO: MARK OLIVER GUEST MIX
Adam K and Soha / Who Cares?… Really / Hot Box
Andrea Doria / Beauty of Silence/ BluFin
Lens / Beyond the Shadows / Armada
Markus Schulz / Cause U Know / Coldharbour
Heatbeat & Matthias Faint / Sxing / In Charge
Cressida / 6AM / Euphonic
P.A.F.F. / From King to Finch / Flashover
Marco V / Dudak / In Charge
Rank 1 & Jochen Miller / And Then… / High Contrast