Rush Hour 043 w/ guest Eric Allen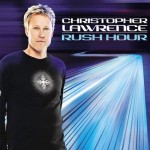 Published on: October 2011
This month started off with a bang for Christopher Lawrence with promos of his new single Tremor out to DJs with early support in from Aly & Fila, Dash Berlin, Giuseppe Ottaviani, Manuel Le Saux and Sean Tyas to name a few! Christopher is also recovering from a massive birthday weekend which included Wet Electric in Orange County and Avalon Hollywood, where he played back to back with label mate and touring partner John 00 Fleming.
Now Christopher Lawrence returns to the airwaves for the October episode of Rush Hour.  Christopher features new tracks from Andy Paterson & Outflow, John Askew, Paul Webster, Sideform, Saint X, Too Many Artists, Cosmic Station & Bunker Jack, plus a whopping five new tracks by Indecent Noise, one in conjunction with Des  McMahon and one with Colin James. That must set a Rush Hour record for the highest number of tracks by a single artist!
This months guest mix comes from Eric Allen, who Christopher recently played alongside at Vancouver's legendary afterhours Gorgomish. For most DJs, playing over sixty gigs a year, holding down multiple club residencies, an internationally aired radio show and playing alongside some of the world's biggest DJs including, among others, Gabriel & Dresden, Marco V, Above and Beyond, John O'Callaghan, Sean Tyas, Christopher Lawrence, and that's just to name a few, would be crowning achievements on a strong career of DJ'ing. Eric Allen continues to do all these things and more all with his best years still far ahead of him.
Introduced to electronic music at age 15, Eric had his first set of decks shortly thereafter and the rest as they say, is history. Gobbling up all the trance music he could, Eric has lived and breathed the music ever since. Being too young to play in clubs initially, Eric had to fight for his first gigs but nevertheless began to develop a following at local concerts, parties and events with his signature dark, driving and immensely energetic blend of progressive trance, house and techno
Now at the ripe old age of 23, Eric has continued to define his genre bending style as he routinely takes people to new heights with his high energy, high tension DJ sets.
After a whirlwind year in 2010 which saw him going from a gig-a-month DJ, to one of the most well known and popular DJs in the Vancouver party circuit, Eric has firmly established himself in the west coast electronic scene. With his Friday residency at Vancouver's Gorgomish Nightclub, his internationally aired, monthly radio show "On The Dance Floor" which is broadcast monthly worldwide on AfterhoursFM and a continuous slew of requested guest mixes, club gigs and other events, Eric has his sights firmly set on nothing less than the top. His fans have come to know Eric to always bring a powerful energy to the dance floor and an Eric Allen set has a feeling to it all its own.
Now focused on his residencies and expanding his reach outside of Vancouver, as well as the world of original production and composition, Eric Allen is a name to listen for in the future of electronic dance music. His rapid rise to fame on the West coast is truly something to marvel at and there is no telling where it might stop. Look for Eric rocking a club near you!
For more info:
www.djericallen.com
HOUR ONE: CHRISTOPHER LAWRENCE
Sideform / Psychedelic / Future-Millennium Records Ltd.
Saint X / Glo / Freefall
Too Many Artists / Get Exact Blackout (Indecent Noise Bosh-Up) / Discover Dark
Cosmic Station & Bunker Jack / Cloud Therapy / Planet Ben Recordings
Indecent Noise vs Des McMahon / Surge-Will Rees Remix / Discover Dark
Indecent Noise & Colin James / Preset Warrior / Discover Dark
Indecent Noise / Civitanova (Nick Callaghan & Will Atkinson's Dark Sessions Remix) / Discover Dark / Nick Callaghan and Will Atkinson / Eastern Spirit (Ian Betts Remix) / Discover Dark
Indecent Noise / Grim Reaper / Discover Dark
Andy Paterson & Outflow / Thrill Driver / Virus Audio White
John Askew / Torture Chamber / Night Vision
Paul Webster / Reload / Garuda