Rush Hour 045 w/ guest Seven Ways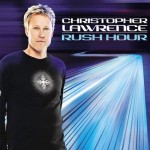 Published on: December 2011
With 2012 coming to an end, Christopher Lawrence has put together a banging episode for December to ring in the New Year. Featuring tracks by Neuroplasm, SilenT Hill, 2HI, 2012, PsyNina, Mervit, James Allan & Kevin Aitken plus a whopping three by Pharmacy star Sean J Morris as well as Christopher's own upcoming single Faith in the Future.
This months guest mix is from Seven Ways, Quebec City's #1 trance DJ and the man behind Transition Productions since 2001. He's the one who produces the widely recognized and reputable BLACK LIGHT each Halloween, VISION on Easter week-ends, TRANSITION NIGHTS as well, in addition to collaborate with many productions including Flow Productions, Kanibalz Collective and Old School prods. 
He has invited and played alongside great artists such as John 00 Fleming, Christopher Lawrence, Dino Psaras, System Nipel, Nick Sentience, CPU,, Tiësto,  ATB, DJ Dan, Magnus and Nicholas Benisson. 
His experience is largely a result of his work with Old School productions, which generate events in Quebec City from 300 to 4000 guests, including The New-Year Party: INTENSE. But on the other hand, it should be noted that originally, it is through production Kool Kats and Kashmir nightclub where it all began … Since 2000, the managing of rave parties in halls/theaters and club nights had imposed themselves, with also promotion of new music styles or a particular artist!
As a DJ, his style is unique, an energetic, atmospheric, mostly PROGRESSIVE, TRANCE with psy, electro, house & techno sonorities. Seven Ways performs various commitments that have helped developing a bewildering versatility, but with all the quality and fluidity of the mix that he knows…
In recent years, we all have heard him in the biggest events and clubs in town (Tiësto at Quebec City Exhibition Centre, Woodstook-en-Beauce, Intense, Black Light, Dagobert Nightclub, Maurice Nightclub, Boudoir Lounge, Sonar, La Bombe Afterhours, Vision), but outside the Capital has not been left as many times does one has invited him in Montreal (Circus Afterhours, Aria Afterhours), Trois-Rivieres (Boom), Sherbrooke (Gruv Afterhours) and Saguenay, to name a few. Seven Ways now has a radio show of global audience, VISION OF TRANCE, especially for broadcasting more underground Trance Music on one of the most important electronic music radios: AH.FM. (Among Markus Schulz, Sean Tyas, Aly & Fila).
HOUR ONE: CHRISTOPHER LAWRENCE
Neuroplasm / Epoch / Catalyst Records
SilenT Hill / Silent Ghosts / Planet Ben Recordings
2HI / Bad Boy / GoaTrance Circle
2012 / The True / Antu Records
PsyNina / Level of Creation (Psynin Album Remix) / Psynina Productions
Mervit / Wake me Up / Psycore Records
Sean J Morris / Driver / 405 Blue
James Allan & Kevin Aitken / Killswitch / Infected Afterdark
Sean J Morris / Day Dream / Pharmacy
Sean J Morris / Earth (Fergie & Sadrian Mix) / Pharmacy
Christopher Lawrence / Faith In The Future / Pharmacy