Rush Hour 046 w/ guest JB Vries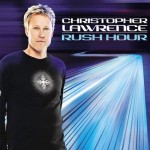 Published on: January 2012
Crashing out of 2011 with shows in Las Vegas and Houston.. and into 2012 with sell out shows in San Diego and Denver, Christopher Lawrence has been working overtime to find the best underground tracks for this months Rush Hour with new tunes from Carlo Calabro, KloneZ, Lisa Lashes, Rene Ablaze & Tonerush, Rene Ablaze & Tonerush, Phunpark, Mory Kante vs Loverush UK!, Simon Patterson, Essex, Lamat & Han Solo and Creatrix.
This months guest mix comes from JB Vries, whom Christopher discovered playing for Opulent Temple at last years Burning Man. Drawing influence from travels around the world, Asia to Africa, Europe and South America, JB Vries' motivations have always been based in rhythm and melody. Growing up in the Midwest United States he knew early on his life's direction would be a musical one and with this in mind he took his show on the road. While studying Audio Engineering in Florida, he began learning the art mixing in the studio as well as a DJ in the Orlando nightclub and underground dance scene.
Producing a variety of dance genres, all with a driving and psychedelic undertone, JB has his sights set on bringing his flavor of progressive dance music to festivals and nightclubs the world over. Today, JB lives in Downtown San Francisco where he continues to perform along side some of the worlds finest DJs as part of the Opulent Temple (www.opulenttemple.org). 
For more information:
www.JBVries.com
HOUR ONE: CHRISTOPHER LAWRENCE

Carlo Calabro / Fight On Sissy Lane / Carlo Calabro Label
KloneZ / Spirit / Detox Records
Lisa Lashes / The Bends (Original Mix) / Discover Dark
Rene Ablaze & Tonerush / Sulaco (Original Mix) / Redux Recordings
Rene Ablaze & Tonerush / Sulaco (Rene Ablaze pres. Fallen Skies Remix) / Redux Recordings
Phunpark / Midnight-Sean Tyas Remix / Tytanium Recordings
Mory Kante vs Loverush UK! / Yeke Yeke 2011 (Mark Sherry's Acidburst Remix) / Loverush Digital
Simon Patterson / Smack (John Askew Remix) / Night Vision Spinnin
Essex / Beatniks / GOA Records
Lamat & Han Solo / Predators / Morphonic Records
Creatrix / Voices Of The Aztecs / Recrystallize Records