Rush Hour 069 w/ guests Trip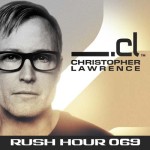 Published on: December 2013
With the year coming to end, Christopher Lawrence wraps it up with a new mix compilation "Rush Hour – Best of 2013" which is currently at #15 on the Beatport psy trance release chart.
He also serves up an incredible December installment of his podcast featuring new tunes by Nicholas Bennison, Solar Spectrum, Tribe Spread, Ohmnidrive, Nanot3ch, Bao, Sonic Species, 5th Dimension, French Skies & Stephane Badey with the track of the month going to Hypnoise.
This months guest mix is from the Buenos Aries production team known as Trip which is made up of Fernando Picciano, AKA Fergie of Fergie and Sadrian, and their studio partner Emiliano Ayub.
After a taster of Trip's clean production and engineering tricks on their remix of Anubis by Fergie & Sadrian on Pharmacy Music, the response was so great that Christopher immediately got the guys back in the studio for solo release No Location / Agni, which came out on Pharmacy Music this month and is getting support from Support from Casey Rasch, Christopher Lawrence, Giuseppe Ottaviani, Gordon Coutts, Martin Libsen, M.I.K.E, Renato Dinis, Robert Gitelman and more.
Trip will leave no doubt in your mind as to their true intention – total dance floor confusion and devastation.
For more information:
www.facebook.com/tripmusicc
Track List
Hour One: Christopher Lawrence
Nicholas Bennison / Shattered-Angles / JOOF
Solar Spectrum / First Contact / GoaProductions
Tribe Spread / Winter Sun / Speedsound
Ohmnidrive / Blue Moon / GoaProductions
Track of the Month – Hypnoise / Substance / Expo
Nanot3ch / A Serious Mistake / Goa Crops
Bao / The Spirit Molecule / Blacklite
Sonic Species / Strictly Virtual / Biolive
Hypnoise / Astral Journey / Blacklite
5th Dimension / Armageddon (Chris Oblivion Remix) / BrainMapping Recordings
French Skies & Stephane Badey / Imperium (Stephane Badey mix) / Pharmacy
Hour Two: Trip
Gaudium / How can i tell / Iboga Trance
Omiki / Bass in your face / Amplidudes Records
Dropped / interdimensional beings / Digital Nature records
Christopher Lawrence / Libra (Trip remix) / Pharmacy Music
Fergie & Sadrian / Anubis (Trip Remix) / Pharmacy Music
Trip / No location / Pharmacy Music
Trip / Agni / Pharmacy Music
Trip / Rumble / Unreleased
Static Movement / Sykick Mystery (Helber Gun Remix) / IONO Music
Zyce / THC / Synergetic Records201