Rush Hour 070 w/ guest Lisa Lashes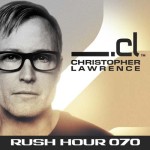 Fresh off New Years in Bucharest, Christopher dives into 2014 with two hours of psy madness. The first hour features three new tunes from Christopher's label Pharmacy Music – Christopher's new single The Dark, plus new tracks by CBM & Johnny Zana and Lisa Lashes. Also in the first hour, new tunes from Johann Stone, Mental Broadcast vs Spinal Fusion, Tristan & Nigel, McCoy's Sun Project, Mechanimal & MindSweep, Outsiders & M-Theory and Mirok, with Track of the Month from Aphid Moon.
In the second hour, we have a guest mix from Lisa Lashes. She has been voted the Number 1 female DJ on the planet, having one of the biggest selling Euphoria Dance albums of all time, still headlining the most prestigious festivals and events the dance industry has to offer around the globe. These huge achievements don't pop up overnight and with a career stretching over a decade Lisa's still at the top of her game. Well known and hugely respected for her hard work and pioneering a good ear for music plus pushing the boundaries on her productions, we can see even more big things on the horizon for Lashes. Adapting to new sounds, Lisa's evolved into the more rolling, phat, energetic, bass driving style of music thus opening up more interest with her ever growing fan base gaining respect from new and old clubbers worldwide. No stranger to festivals and events including the massive Global Gathering, Creamfields, Nocturnal Wonderland, Electric Daisy Carnival & Dance Valley to name a few, Lisa is also a regular at the infamous Ministry Of Sound in London. On the production front, Lisa's tracks have been supported by the biggest names in the business including Paul Van Dyk, Gareth Emery, Markus Schulz, Dash Berlin and Armin Van Buuren. Having attained a podcast that iTunes recommends in its top 5 monthly dance casts in the world, a music label, Lashed that regularly hits the Top Ten Beatport chart and her Lashed Events worldwide, Lisa is not one to be complacent and is always working to up her game, which is possibly the reason she has had longevity in this very male dominated music industry.
For more info – www.djlisalashes.com/
Hour 1: Christopher Lawrence
CBM & Johnny Zana / Exakto (Victor Dinaire Remix / Pharmacy Music
Christopher Lawrence / The Dark / Pharmacy Music
Johann Stone / White Walkers / Discover Dark
Mental Broadcast vs Spinal Fusion / Access Knobs / Sun Department
Aphid Moon / Cosmic Order / Nano Records
Tristan & Nigel / Purple Om / Nano Records
McCoy's Sun Project / Cosmic Porn / Sun Department
Lisa Lashes / Arp Wave (Champa Remix) / Pharmacy Music
Mechanimal & MindSweep / Free Will / Mutagen Records
Outsiders & M-Theory / My Reaction / TechSafari
Mirok / Bluff / Grasshopper Records
Hour 2: Lisa Lashes
Sideform / Time Bending / Blue Tunes Records
Inverted / In Between / Atoms Records
Lisa Lashes / ARPwave / Pharmacy Music
Liquid Soul / Crazy People (Captain Hook & Domestic Remix) / Iboga
X-NoiZe vs Azax Syndrom / Monsters / Nutek
Lisa Lashes / Virus / Fraction Records
PunchLine / Rise / Nutek
Mechanimal & Mindsweep / Free Will / Mutagen Records
Astral Projection / Mahadeva (Lyctum Remix) / Joof
Roger Rabbit / Brainstorming / Iono
Champa / The Path / BMSS Records