Rush Hour 071 w/ guest Frost Raven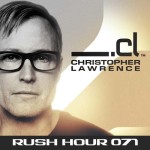 Published on: February 2014
Back from his Argentinian tour, Christopher Lawrence dives head first into February with two smashing hours of psy trance. There's a new Christopher Lawrence remix of Lisa Lashes 'Virus' plus new tracks from Pharmacy's Frost Raven and Digital Basement. Also Tummy Talk, Factor, Ace Ventura & Darma, Lifeforms, Molok Lyctum, The Commercial Hippies, Sideform, Lamat & Han Solo.
This months guest mix comes from Pharmacy's Frost Raven (AKA Dustin FoxxMusser). The timing couldn't be better as his single Forever / The Beastwas released exclusively on Beatport this week. Frost Raven's previous releases on Pharmacy have been heard everywhere from Simon Patterson's Open Up to Paul Oakenfold's Full on Flouro so we're expecting big things!
Frost Raven has a background in post-production sound and a love for movies. His desire not to stay locked into one genre has helped created an interesting blend of clubby sounds and psychedelic underground. Seeing Frost Raven live is a glorious trip for the senses, as he plays a ton of original tracks in every set. A huge outdoor three-day festival, an intimate renegade party, or a nightclub. It doesn't matter, he'll be sure to take care of the dance-floor.
For more information:
http://www.facebook.com/frostravenmusic
Hour One: Christopher Lawrence
Tummy Talk / Motion Response / Broken Robot
Factor / Gaya / Synergetic
Ace Ventura & Darma / Acidcore (Egorythmia Remix) / Iono Music
Lisa Lashes / Virus (Christopher Lawrence Remix) / Fraction Music
Lifeforms / Illumination / Yellow Sunshine
Frost Raven / Forever / Pharmacy Music
Track of the Month – Molok & Lyctum / Sharena  / Tesseractstudio
The Commerical Hippies / Cold Shoulders / Planet BEN
Sideform  / Time Bending / Blue Tunes Records
Digital Basement / Cosmic Traveller / Pharmacy Music
Lamat & Han Solo / Spiritual Connection / Morphonic
Hour Two: Frost Raven
Lyctum & Sideform / Eclipse
Liquid Soul / Adrenaline
Time In Motion / Dreamscape
Frost Raven  / Starfire
Temple One  / String Theory
Matt Cerf feat Jaren  / Let me Breathe (Ronski Speed remix)
DT8 Project / Breathe (Alex M.O.R.P.H. vs. Woody van Eyden remix)
Sunny Lax / Reborn (Nitrous Oxide Remix)
Ecco/ Intuition (Martin Roth classic style mix)
Paul Oakenfold / Full Moon Party