Rush Hour 079 w/ guest Casey Rasch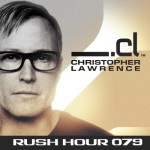 Published on: October 2014
It's a busy month of the production front for Christopher Lawrence with the release of his new single Terminus, and his upcoming mix compilation Pharmacy: Phase 4.
To get you in the Pharmacy mood, Christopher features three tracks from Pharmacy: Phase 4 including his new single Terminus, Dub Tek's Psyched Up and a Track of the Month by Seven Ways & Planet Disconnect. Also on the Pharmacy front is Jens Jakob's new single Think About, plus Casey Rasch's remix of Lisa Lashes new single . Other highlights include John Askew's brilliant remix of John Ekman's Exhale and Sam Jones & Rhys Thomas's Sectioned.
This months guest mix comes from Pharmacy's up and coming producer Casey Rasch who aggressively seeks his own trance sounds through his music. His debut original Go on Pharmacy turned quite a few heads including Christopher Lawrence's. This success has led him to remix for giants and legends in the scene including John Askew, John 00 Fleming, Christopher Lawrence, Lisa Lashes, and Federation. His tracks have been supported by the big names in the industry to include Aly & Fila, Simon Patterson, Bryan Kearney, Indecent Noise, Paul van Dyk, Nick Sentience, Jordan Suckley, Mark Sherry, Liam Wilson, James Dymond, Ben Lost, Thomas Datt, and many more. They have also been recognized on the Beatport Trance and Psy-trance Top 100 charts as well as top 10 in the Trackitdown Trance chart. He has recently been building his arsenal with originals and collaborations to be released in the near future.
Hour 1: Christopher Lawrence
Jens Jakob / Think About / Pharmacy
Dub Tek / Psyched Up / Pharmacy
Sam Jones and Rhys Thomas / Sectioned / Mental Asylum
Tasso & Daniel Skyver / Do You Copy / DarkerDepths
Lisa Lashes / Dis You (Casey Rasch Dub Remix) / Critical Overload
G8 / Lethal Design / Aria Knights
Changes and Recruit / Swamps and Stars / Aria Knights
Seven Ways & Planet Disconnect / The Samurai / Pharmacy
Christopher Lawrence / Terminus / Pharmacy
John Ekman / Exhale (John Askew Remix) / Perfecto Fluoro
Hour 2: Casey Rasch (Pharmacy / USA)
Yotopia / Misperception
Micky Noise / Firegate
Neelix / Coloured Light (Simon Patterson Remix)
Egorythmia, Darma / Lucid Dream
Second Sine / Ipanema Girls (Nick Callaghan Off The Grid Remix)
Second Sine / I.D.
Federation / Be There (Liam Wilson & Casey Rasch Remix)
Casey Rasch Feat Taranhawk / Twisted Realities
John Ekman / I.D
Active Limbic System / Intrigue
Liam Wilson / Escarpins