Rush Hour 080 w/ guest Lostly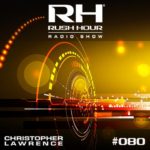 Published on: November 2014
With his new mix compilation Pharmacy: Phase 4 in the Top 5 on Beatport's trance and psy trance charts, and his single Terminus hitting Top 20, Christopher Lawrence bounces into November for Rush Hour 080.
This months episode features some of the biggest tunes from his current Pharmacy tour including two from 2Komplex and Kessler & Mazzar. Track of the month goes to Bamboo Forest's Bandwidth, plus there's new tunes by Soundfanatic & Su6tropic, Krama, Flowjob & Morton Granau, Ilai, James Dymond, Hypnoise & Ital, Rishi, Sonic Species plus remixes by Wikidz, Nemo, Activa and Outsiders.
This months guest mix is from South Africa's Lostly (Andre Frauenstein) aka 'Audio Militia' who started DJing at 13. He quickly moved on to DJ at top events and festivals around the world including Love Parade, Nature One, Decibel, Color Festival, and has also been busy supporting and headlining successful shows and tours with acts such as Simon Patterson, Cosmic Gate, Emma Hewitt, Markus Schulz, John O' Callaghan, John Askew, The Thrillseekers, Activa etc. His endless dedication & passion having paid off, Lostly is now known as one of the leading electronic DJ/Producers in South Africa, with his music being supported by the biggest performing artists around the globe, such as Armin Van Buuren on A State Of Trance. With chart topping releases featured on labels such as Discover Records, Armada, Black Hole Rec, Mental Asylum, Kearnage, Outburst, Adjusted Music, Borderline Music as well as compilation albums such as the infamous Technoclub series, Ministry Of Sound's Trance Nation. He has also completed several collaborations and remixes for Aly & Fila, The Thrillseekers, Indecent Noise, Signum and more. In the very same year Lostly was approached by his home label Discover Records to become the head of A&R taking over from industry giants Activa and John Askew. He has also launched his own Record Label under the Recoverworld umbrella called Lostalgia Music and the first two unreleased songs have already gained frequent support from Armin Van Buuren, Paul Van Dyk, Aly & Fila, Bryan Kearney, John O' Callaghan, The Thrillseekers, Giuseppe Ottaviani to mention a few.
Hour One: Christopher Lawrence
2Komplex / Ritual of Life / Pharmacy
Kessler & Mazzar / Human Nature/ Pharmacy
Soundfanatic & Su6tropic / Intoxicants / Synergetic
Krama / Volcanic / Spin Twist
Flowjob & Morton Granau / The Flow Must Go On (Wikidz Remix) / Yellow Sunshine Explosion
Ilai / Pampero (Nemo Remix) / Profound
James Dymond  / Samples of Silk (Activa Remix / Perfecto Flouro
Hypnoise & Ital / The Awakening / Antu Records
Bamboo Forest / Bandwidth / Phoenix Groove
Rishi / The One That Got Away / Ovnimoon
Sonic Species / Zero (Outsiders Remix) / Tip
Hour Two: Lostly Guest Mix
Peter Hulsmans / True Identity / Discover
John Askew / Skylab (Kyau vs Albert Remix) / Discover
Lostly  / Never Had You / Discover
Paul Webster & Mcaree & Clancy / Happy Ending (Lostly Remix / Fraction
Sied Van Riel & Standerwick / In A Perfect World  / Subculture
Senadee / Robot Love (Lostly Remix) / Black Hole Records
Signum / What Ya Got 4 Me!? (Lostly Remix) / Armada
Sam Jones & Rhys Thomas / Sectioned / Mental Asylum
Paul Denton / Acid Reign / Mental Asylum
Lostly  / Take This Acid / Discover Dark
The Streets / Blinded By The Lights (Bryan Kearney Remix) / CDR