Rush Hour 082 w/ guest Daniel Lesden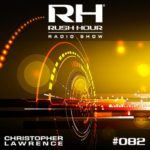 Published on: January 2015
Rush Hour 082 comes direct from Australia where Christopher Lawrence is on the Pharmacy: Phase 4 tour. This episode is jam packed with Pharmacy tracks Christopher is playing on tour and the response has been amazing from Down Under. Track of the Month goes to Orbiteck – The Wicked Rabbit Movement (Fergie & Sadrian Remix), plus there's new tunes from Pharmacy's Microsis, tinY, Frost Raven, Jens Jakob, Lamat and Daniel Lesden. There are also new releases from Paratech, plus remixes from Nick Sentience and Nukleall.
This month's guest mix comes from Daniel Lesden, whose remix of Christopher Lawrence & Jonathan Allyn latest single The Human Element on Pharmacy Music spent several weeks in Beatport's Top 20 singles chart.
Daniel Lesden has solidified his sound in recent years and is a name that is rapidly rising through the ranks and and is certainly definitely respected by his peers. His music can best be described as atmospheric and melodic, but at same time dancefloor orientated Progressive Psy Trance influenced by his love of the universe and journey of discovery. He has been meticulous in his preparations over the last year for his debut album 'Chronicles Of The Universe'.  Spending an immense amount of time researching and constructing newsounds, he has not only been able to tell a story about each of the amazing planets in our solar system, he has created a masterful piece of work. To be given the nod from one of the most respected producers of the genre John 00 Fleming was a dream come true for Daniel and provides the credence his hard work deserves as he signed the album to JOOF Recordings. With some amazing reviews from his peers and fans alike 'Chronicles Of The Universe' may well be the launch pad that sends his career intoanother galaxy. With a remix of John 00 Fleming's forthcoming single already in the pipeline, as well as three new EP's all to be released on J00F Recording in 2014 the backing of such a powerful labelproves Daniel has something special and what can only be described as an explosive journeyahead of him. Described as "A great up and coming psy producer!" by Simon Patterson, he began his professional career in the music scene in 2012 with his first release 'Contact' being snapped up by Ovnimoon Records and spent a number of weeks in the 'Beatport PsyTrance Release 100', finally holding firm at #7.  A remix of another of the heavyweights of the Psy Trance scene followed this with Ace Ventura's monumental 'Presence', unleashing a moretechie sound on this remix that is certain to smash any dancefloor around the world.
Receiving phenomenal support from Simon Patterson and a guest appearance on his weekly radio show 'Open Up' provided Daniel with the opportunity to share with the world his uniquestyle of 'Progressive Psy'.  His remix of Mac & Monday's 'Yoruba' was voted as one of the listeners favourite tracks of 2013 and played on the celebratory 50th episode of the show. His ability to construct deep and powerful driving bass lines, combined with exceptionalmelodic moments came of age with his amazing remix of Lyctum's monster track 'Galactic Society' on Synergetic Records shows his technical skills and ingenuity in constructing a hardhitting, melodically driven style not too dissimilar to a comet hurtling through space in all its glory. He brings an excellent mix of melodic elements, and driving bass lines with his productions. Daniel's monthly radioshow 'Rave Podcast' has made such waves it is now hosted on the worlds most respected EDM internet radio station 'Digitally Imported' (DI. FM).
For more information:
http://daniellesden.com/
Hour One: Christopher Lawrence
Microsis / Anno Machina / Pharmacy
tinY / Love and War / Pharmacy
Frost Raven / Never Alone / Pharmacy
Orbiteck / The Wicked Rabbit Movement (Fergie & Sadrian Remix) / Pharmacy
Christopher Lawrence & Jonathan Allyn / The Human Element (Daniel Lesden Remix) / Pharmacy
Jens Jakob / Dark Energy / Pharmacy
Second Sine / The Harder / They Drop (Nick Sentience Remix) / Critical Overload
Paratech / Sky Lines / Blacklite
Paratech / Mental Union / Blacklite
Paul Taylor & Andy Mason / Bandersnatch (Nukleall Remix) / Kundalini
Lamat / On Top, Behind and Beyond / Pharmacy
Hour Two: Daniel Lesden (J00F / Russia)
Daniel Lesden / Ishtar Terra / JOOF
Relativ & Nerso / Burn The Floor / TesseracStudio
Daniel Lesden / ID Starlab / Innerspace / Digital Om
Shogan / Vintage World / Ovnimoon Records
Side Effects / Time Bender (Arhetip Remix) / Digital Om
Daniel Lesden / ID
Talpa / The Moon (Flegma & Nerso Remix) / TesseracStudio
Miranda / Gnocchi / (ManMachine Remix) / Unreleased
Protonica / Floating Joint / Unreleased
Daniel Lesden / Vortex / JOOF
Liquid Soul / Devotion (Morten Granau & Zyce Remix) / Iboga
Ace Ventura / Presence (Daniel Lesden Remix) / Unreleased
Vertical Mode / Twist Me Up (Lifeforms Remix) / HomMega
Daniel Lesden / Space Form / Tandava Records