Rush Hour 094 w/ guests Hypnocoustics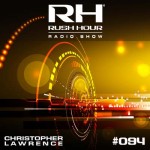 Published on: January 2016
Gearing up for Fleming & Lawrence's Dreamstate debut in San Francisco this weekend, Christopher Lawrence has been digging deep in the crates to find the best trance out there right now. On the home front, there's the global debut of Christopher Lawrence and Fergie & Sadrian's new single Livewire. There's also new music from Rafael Osmo, Shogan, Relativ, David Forbes, E-Clip, Pragmatix. Cosa Nostra vs Melicia, Yar Zaa, MFG, Champa and Kontrast with Track Of The Month going to AR-X & SikSet – The Truth (Nick Sentience Remix).
This month marks the return of one of Rush Hour's most popular artists Hypnocoustics whose kick ass guest mix shows us who's boss. Not only does he deliver an amazing guest mix, he is also doing a free giveaway of his brilliant album Transformational Structures to Rush Hour listeners – goo.gl/j6aUCA
Hypnocoustics is the solo Psychedelic Trance project of London based artist Joe Studt. Originally formed in 2009 with Benjamin Wood, Joe has since solidified his reputation within the UK as one of the countries top psychedelic producers with a string of hit EP's, two albums on Liquid Records and acclaimed live performances at some of the biggest and best dance floors on the global psy-trance scene including bookings with Boom Festival, Universo Paralello, Ozora and Noisily Festival in the UK. More info:www.facebook.com/Hypnocoustics/.
Hour 1: Christopher Lawrence
1. Rafael Osmo / Antivirus / Pharmacy Plus
2. Shogan / Sunlight Shuffle / Phoenix Groove
3.Relativ / Rise Of The Garuda / Profound
4. David Forbes / Airdrop / Perfecto Fluoro
5. Christopher Lawrence vs Fergie & Sadrian / Livewire / Pharmacy Music
6. E-Clip / Macrocosm / Iono Music
7. Pragmatix / Quasar / Profound
8. Track Of The Month: AR-X & SikSet / The Truth (Nick Sentience Remix) / Sky
9. Cosa Nostra vs Melicia / El Mariachi / Tip
10. Yar Zaa / The Source / Flying Spores
11. MFG / Positive Energy (Champa Remix) / Dacru Belgium
12. Kontrast / Nano Tube / Party Label Unique
Hour 2: Hypnocoustics
1. Hypnocoustics / Transformational Structures / Liquid Records
2. Hypnocoustics / Artificer / Liquid Records
3. Hypnocoustics / Cycles of Time / Liquid Records
4. Hypnocoustics vs Spun Out / Foxy / Liquid Records
5. Hypnocoustics / Fourth Quadrant / Liquid Records
6. Hypnocoustics vs Cosmosis / Pyrokinetic / Liquid Records
7. Hypnocoustics / Sunsets & Skin Grafts / Liquid Records
8. Hypnocoustics / Hylozoism / Liquid Records
9. Hypnocoustics vs Cosmosis / Dark Matter / T.I.P Records
10. Hypnocoustics / Cosmic Evolution/ Liquid Records